What Makes a Good Boxing Computer?
Now that I have created boxing guides I feel like I should share what I know about boxing computers. I've boxed on about 8 or 9 different computers in total and have learned a ton about what computer parts EQ uses/needs the most of and what parts of your computer don't matter nearly as much.
First and foremost the most important part of a computer when it comes to boxing is your CPU. EQ loves your CPU and requires massive CPU power to run a lot of characters. The second most important part of a computer is your RAM. Your RAM is almost as important as your CPU but not quite. Then finally the least important part of a boxing computer is your Graphics card.
CPU
RAM
Graphics Card
That's going to be our holy trinity. What you have to determine next is how many characters you'd like to box and what type of budget are you giving yourself for a computer. I'm going to provide you with some examples (specs) of the computers I have boxed on/currently own and how many characters they run.
This will give you a means to compare the computer you want to computers I have had/know how many they can box.
My Main Computer Intel i7 5960X CPU 3.00 GHz *32 Gigs RAM* Nvidia GeForce GT 740 - Boxes 36 Characters @ 80% RAM // 60% CPU usage
My Secondary Computer Intel i7 7700k CPU 4.20 GHz *32 Gigs RAM* Nvidia GeForce GTX 1070 - Boxes 24 Characters @ 60% RAM 80% CPU usage
My Third Computer Intel i5 7600K CPU 3.80 GHz *32 Gigs RAM* Nvidia GeForce GTX 1050 - Boxes 15 Characters @ 100% CPU Usage 40% RAM Usage
I very strongly recommend that if you're reading this page thinking of buying a new computer for boxing and wanting information on it that you read over all three of the above links to learn more about the experiences I had with each of those computers. I've included their entire parts list as well as a summary of my year(s) boxing with them.
A TL;DR version of that would be - the second computer is the one that I would recommend to the most people out there looking to box in Everquest. A picture of its listing on Newegg.com has been included below - for when the link I have provided goes dead.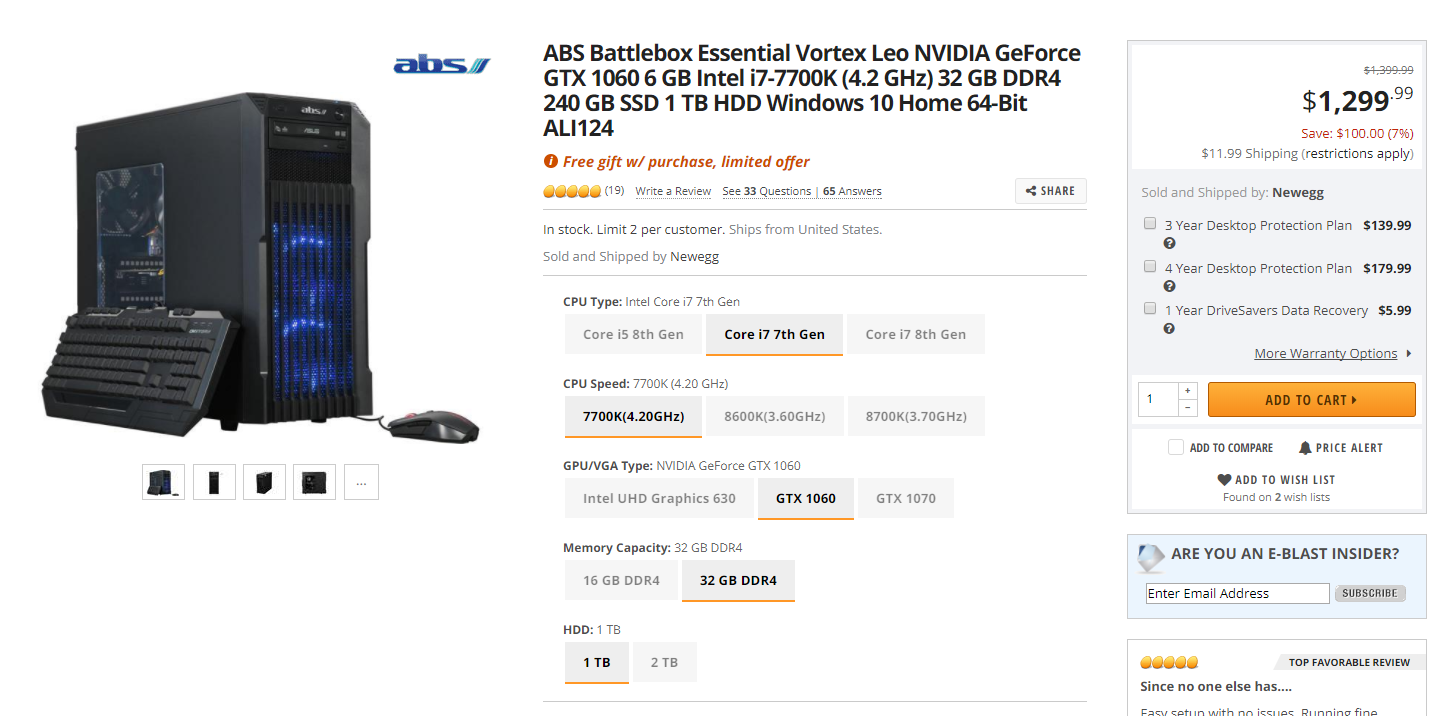 Those of you looking for a great boxing computer need to look no further than this beauty. First and foremost the best part about it is you don't have to waste your time building it yourself nor do you have to wait like a whole month for some company to build it for you. You can order it right off Newegg and get it in a few days for basically the same price you'd be paying for a company like Ibuypower to do it for you.
With that aside there's another reason that I really like this computer too. It's basically the best boxing computer you can buy for the cheapest price online. I searched almost everywhere and it was very difficult to find a computer with a processor as good as this one for under 1,800$.
If the computer pictured above isn't for sale anymore and you're looking to purchase a boxing computer; I recommend you use the two websites that are linked to below. Input the CPU and the GPU you see on the computer above and compare them to different computers that you're looking at.
Try to find the computer with the most identical CPU and at least 16 gigs of RAM - 32 preferred. If you're only looking to run 12 characters then 16 gigs of RAM will be just fine. If you'd ever like to run 18 though (or 12 characters with a lot of back ground processes going on) you'll want 32 gigs of RAM instead. I can't see any reason you'd ever need 64 gigs of RAM for this stuff.
The final piece of advice I have is to be very careful when it comes to the Kaby Lake processors. They were processors that were made for 'general use' which definitely does not include boxing in Everquest. Not all Kaby lake processors are crap (and the ABS computer I recommend most actually has a Kaby Lake) but a lot of the lower tier ones are total crap. If you read my Third Computer link above - that computer has a lower tier Kaby Lake that originally looked like it would be a good purchase. It wasn't. Out of all the computers I have tried boxing on, that was the most disappointing one.
There you have it! This is all of the boxing knowledge I have about different computer choices which I thought would be very useful to share with you all. As I play on more computers in the future I will probably add more information to the top of this page for players to read up on as we get newer technology.