Quest #113 Hoarse Whisperer - Heights of Loneliness

Quest Requirements: Use Soothe Sayer 20 times on an enraged enemy
Quest Pre-Requirements: Level 15+ Ranger
Reward: Nomadic Deel
This quest is given to you by Odval just outside the Heights of Loneliness, the same person who gives you the quest that unlocks the Ranger Class. If you've forgotten where Odval is or how to get here I recommend reading my Ranger Class Unlock Quest Guide for more information. In order to accept this quest you will need at least one person in your party who is a Level 15+ Ranger.
For the purposes of this quest you will also need to have leveled a Warrior at least enough to get the Whistle ability on one or two of your characters. Basically what you're going to want to do for this quest is use the Warrior's skill Whistle to enrage mobs and then use the Ranger's skill Soothe Sayer to calm them down.
You can do this 20 times in a single battle if you want or stretch it out over the course of multiple battles - it really doesn't matter. I'd recommend pairing this quest with other quests you're doing at the time too to save some time.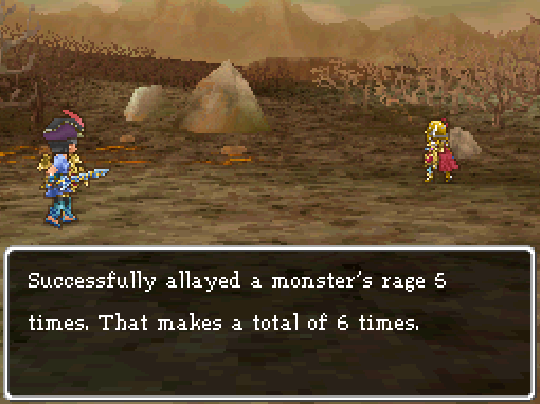 Return to Dragon Quest IX Side Quests By Number Index
Return to Dragon Quest IX Guides Index