Quest #084 Beauty and Beyond - Swinedimples Academy

Quest Requirements: Defeat 10 Boss Troll enemies in Oubliette with Rain of Pain then make Archie a pair of Wonder Pants
Quest Pre-Requirements: 100 Skill Points in the Bow Skill Tree; Side Quest #083 Complete
Reward: Archery for the Adept and Shining Shot ability
This quest is given to you by Archie, a thug standing in the western gymnasium like building on L1 in the Swinedimples Academy. In order to accept this quest you will first need to put 100 Skill Points into the Bow Skill Tree as well as complete Side Quest #083.
For this quest you want to go to the Tower of Nod which is in Western Coffinwell and can only be reached by using the Starflight Express. This is the area that you will find a lot of Boss Trolls which you need for the quest. These enemies are also found in B1 and B2 of Oubliette but I found them to be much less common there than around the Tower of Nod.
The last part of this quest requires you to create a pair of Wonder Pants using Alchemy and give them to Archie. Thankfully this Alchemy Recipe is a piece of cake! You probably already have the required ingredients available.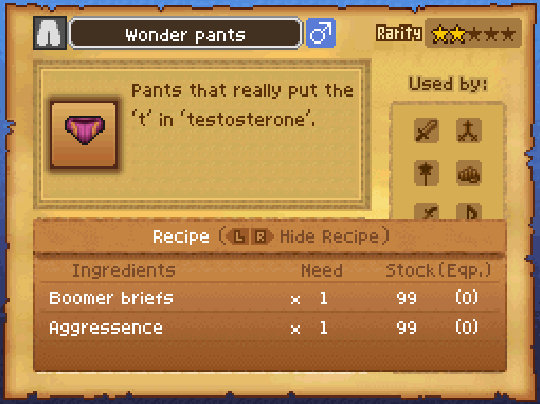 Return to Dragon Quest IX Side Quests By Number Index
Return to Dragon Quest IX Guides Index