Mini Pets Macro
These macros have two purposes if you have a Mage on your box team. Obviously, the first purpose is they provide you with a small increase in DPS. After all - sawrm pets do deal damage! More importantly though and in my opinion the real reason to have these buttons is to increase the damage of a Mage's Volley of Many spell line.
For those unfamiliar with this spell the damage it deals is increased depending on how many targets are on your enemy's hatelist. Note: enemies that do not appear on your Xtarget window when you fight them do not have a hastelist and thus Volley of Many doesn't even hurt them.
As for the Mini Pet Macros, below you will find a list of all the different macros I use for each of the difference classes on my box team. You can copy my macros or use them and come up with your own idea!
Magician Mini Pets Macro: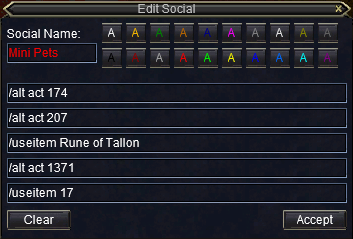 Servant of Ro (/alt act 174) - Summons 1 pet that attacks the target for a certain amount of time. Increases the amount of damage Volley of Many will do.
Host of the Elements (/alt act 207) - This creates an army of swarm pets to attack the target. This when paired with Volley of Many will allow you to get the most DPS out of that spell.
Rune of Tallon Clicky - Summons a Swarm Pet that does a decent amount of damage. More Info about Rune of Tallon clicky
Fundament: Second Spire of the Elements - For this macro I use the Second Spire of Elements because it's useful to use when you're not burning.
Chest Item - For mages the majority of their chest slots have a clicky which adds a proc to your pets Backstab or Bash abilities.
Enchanter Mini Pets Macro: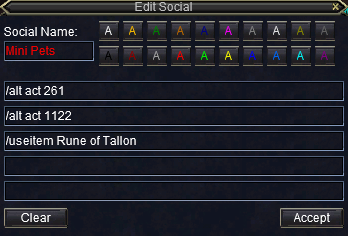 Doppleganger (/alt act 261) - Summons 3 Dopplegangers which cast any spell you have memorized & do other nifty things. They attack your target for 1min 15s
Phantasmal Opponent (/alt act 1122) - Summons a single Doppleganger of your current target to attack your target. This is the stronger of the two Enchanter swarm pet AAs.
Rune of Tallon Clicky - Summons a Swarm Pet that does a decent amount of damage. More Info about Rune of Tallon clicky
Wizard Mini Pets Macro:
Call of Xuzl