Kissassist Macros
This is a Macroquest2 only hotbutton. There are two different buttons that this page will cover, my Ctrl F5 as well my Ctrl F6. F5 targets my tank and starts Kissassist on my entire group/raid. While the second Keybind, Ctrl F6 will turn off Kissassist on anyone that's currently running it.
Those of you familiar with the Macroquest 2 terminology should understand that kissassist can be replaced with really any of the other macros out there which help you to box. Those of you who are unfamiliar with Kissassist and what it does exactly should read more of my Macroquest2 Boxing guides. I go into much more detail about this macro and how to use it there.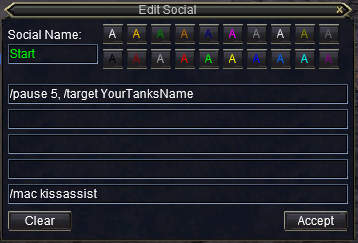 Don't have MQ2 yet or want to learn more? Check out the RedGuides Compile of MQ2!