The Divided Empires - EoK Collectibles Achievement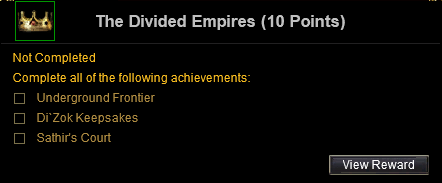 For this achievement you'll need to complete the collectible achievements for four different zones. Underground Frontier (Frontier Mountains), Di`zok Keepsakes (Chardok) and Sathir's Court (Kor-sha Laboratory & Gates of Kor-sha). There are a total of four collectible sets you need to complete for each of the three achievements.
As for the final achievement... it's a bit of an anomaly since it covers two zones instead of just one. The Gates of Kor-sha only has a single achievement set for the whole zone, the other three sets are found in Kor-sha Laboratory. From what I know it's one of the only achievements like this for collections.
The Divided Empires is one of two achievements you need for the Empires of Kunark Master Scavenger achievement. Finishing this achievement will award the player with another rank of Trophy Collector (increases your available Trophy slots by 1) as well as Delicacies Purse, a 38 slot 100% weight reduction bag.
Requires Achievements:
Di`zok Keepsakes
Underground Frontier
Sathir's Court